SO to the final outing of this series of 10th Doctor stories, and this one is a belter. We have a well established and older enemy on the loose in the shape of the Ice Warriors, who I believe were characterized on screen by none other than Bernard Breslaw, he of Carry On Film fame. Nevertheless, the one herein are of a much more malevolent nature and BF incarnation of them to my mind is most scary. This story could be summed up as follows I kid you not:-
Interplanetary Iceland, with deep frozen Ice Warriors who have an existing outstanding issue with the people whom use the interplanetary Iceland due to ongoing wars between themselves and the Humans. Enter a rather enterprising set of shop lifters or in the case pirates whom by breaking into the deep storage disrupt the status quo of the resting Ice Warriors whom have been living in perfect isolation and cathartic state due to the deep freeze sleep, are up and about and ready for a fight. Much arguing and loss of temper, running around being captured and escaping, and the unwarranted death due to the evil nature of said Warrioirs and we have a Who story fit for a Whovian fan of discerning choice.
Tennant play this out to the end as he has done with all of these releases, with skill, dexterity and belief, it is if he still owns the part and it shines through with abundance every element of the characteristics of the Doctor are in evidence here with both the timing of the jokes, the pathos, the tension, and the downright excitement of Tennant having a run at something he certainly knows how to play without having to second guess what he is doing. A little like, if you don't mind the comparison with McGann who also seems to elude this just load the gun and I can shot style of hitting ground running as being perfect. Piper as also been excellent through out, and in this episode she shows the real compassion and belief beyond question, especially at the point when there is a death and dealing with and through that process, she, as a maturity, which shows that the character she once played as actually grown up and she has bought it up to date. The story itself is great, and for me not as quite as good as the second one, is certainly on a par with everything in this three story release. I can see quite clearly that this 10th Doctor series will appeal to the hardent 10th Doctor or Nu Who fan straight out of the box, what is more, the quality story telling, acting, production and sound design all add up to making this a must have. I do like the Ice Warriors there is something special about them, and whether than be nostalgia or the simple fact that they are thrust into the Nu Who, dusted off and sound so great I don't really know I just know it all works very well.
Here is hoping that we don't have to wait a whole 12 months for the next batch of stories, wonderful stuff.
[yasr_overall_rating]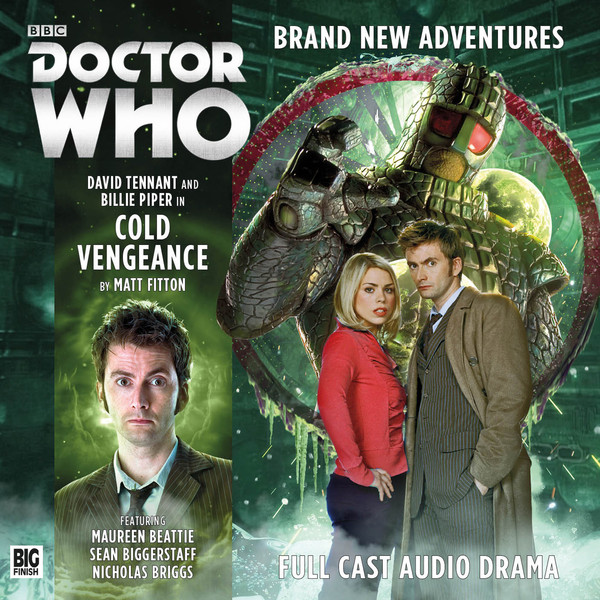 Ice Warriors and interplanetary Iceland in the last installment
[yasr_multiset setid=0]
Cast, Crew and Production Info